Standard Rezztek® (6 Pairs)
Regular price

Sale price

$89.99 USD

Unit price

per
6 Pairs of Rezztek®  (6 Forehand & 6 Backhand)
Lasts 40-60 games (8-10 sessions per pair)
Rezztek is a new patented four layer material, each layer is specifically designed for your top performance. 
Layer 1. Powerful adhesive with clean removal
Layer 2. Super strong fiber mesh for maximum durability
Layer 3. Resin for minimum energy loss and maximum flexibility
Layer 4. Grip surface for better puck control, shot speed & accuracy
Rezztek is also Water resistant and Water repellent to keep your top performance throughout the game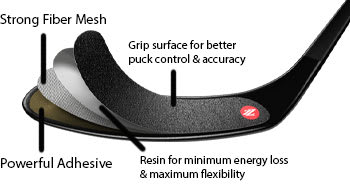 An Independent study, Influence of Physical Properties of Hockey Stick Blade on Shots" by Martin Plesch in 2019 compared Rezztek® to traditional hockey tape. This published scientific study confirmed that Rezztek® significantly improves the speed and accuracy of your shot by the below metrics.
Energy: 
5%
improvement
Junior is for youth and junior blades  (usually up to 12 years of age)
Senior is for intermediate and adult blades – (usually 13 years of age and over)
Click Here To Watch: How To Properly Apply Rezztek
*Replace your Rezztek® when more than 30% of the surface area is damaged.
Share